It's time to stay home for many of us, including the stars. And with celebrities around the world under some form of self-quarantine because of coronavirus concerns, they're posting more photos and videos of themselves at home, giving us a peek into their not-so-humble abode.
(Also read: Covid-19 stay home activities: What Stefanie Sun has been doing with her daughter)
Recently, Ella Chen created quite the buzz when she unabashedly let fans take a virtual "tour" of her home through various Instagram posts.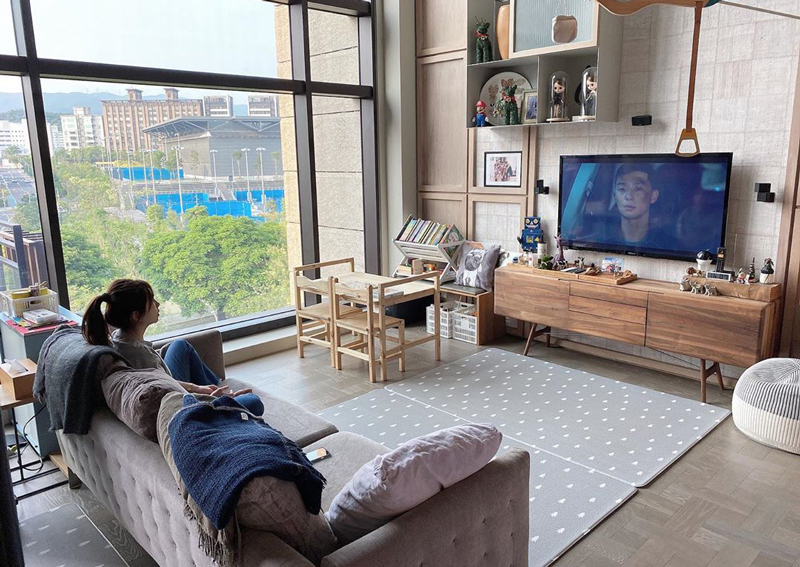 One-third of popular Taiwanese girl group S.H.E, Ella has been killing time at home through exercising, cooking, and even binging on Korean dramas. But what got fans excited was getting to see her multimillion-dollar apartment.
In 2012, Ella and hubby Malaysian businessman Alvin Lai moved to the Neihu district of Taipei where apartments cost at least $5 million.
View this post on Instagram
Since the Covid-19 outbreak, Ella has been busy catching up on K-dramas such as Crash Landing on You and Itaewon Class, where she said: "I'll be empty again once I'm finished watching this."
In this video of her "driving" around in a kiddy car, she unknowingly gave us glimpses of her dining room, kitchen, and a memory board.
View this post on Instagram
And here's another view of her gorgeous kitchen.
View this post on Instagram
However, as most of us can attest, sometimes the boredom of being at home can be overwhelming and here's Ella just mindlessly staring into space while sitting in her fancy living room that comes with a spiral staircase and her own Shiba Inu.
If you're curious about the panoramic view outside her living room, just take a look at this video she made.
View this post on Instagram
Eagle-eyed fans have also noted that she seems to have two sets of couches in her home — an L-shaped one featured in this video, as well as another one that she used while binge-watching Itaewon Class.
Additionally, she also has a home gym that's decently furnished and has showed clips of herself working out while watching Crash Landing on You.
A version of this article first appeared on Asiaone; updated by Young Parents.
(Photos: Ella Chen/Instagram)
Also read: 
Covid-19 stay home activities: What Zoe Tay, Fann Wong and Singapore celeb parents are doing with their kids
How to explain Covid-19 outbreak to kids: Fun videos, slides, e-books by Singaporeans
Covid-19: Tips for pregnant women, babies and kids
Hand sanitisers or antiseptic wet wipes: Which gives better protection against Covid-19?
How to exercise when you have a baby and no time: Tips from a Singapore working mum
Home-Based Learning for kids due to Covid-19: Myths and facts every Singapore parent must know
Home-Based Learning for Singapore school children: How you can better support your kid